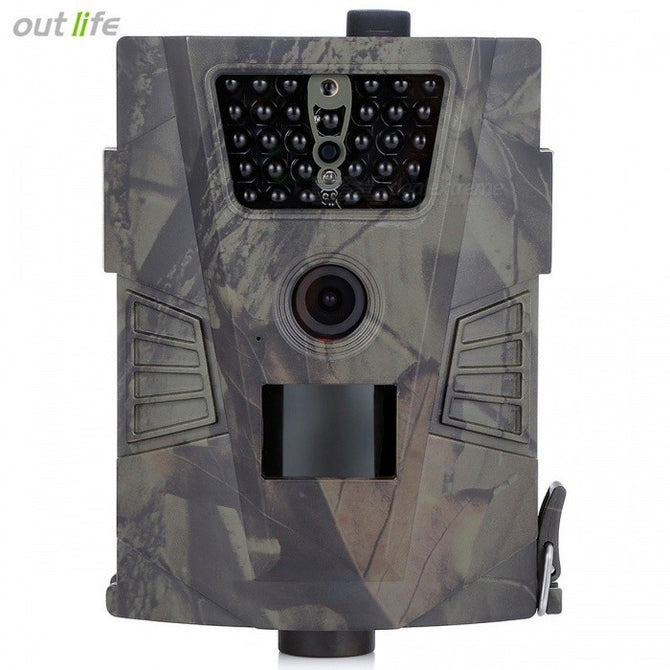 Outlife HT-001 Hunting Trail Camera, 940nm Wild Camera with GPRS, 720P Night vision for Animal Photo Traps army green
Features:
- 90 degree 720P HD PIR sensor camera, support 8MP / 5MP / 3MP selectable image resolution, 720P 30fps video. Infrared camera survey for wild animals.
- 1 / 5 / 10 / 30 seconds / minutes interval between motions optional. Camera can be programmed to operate either in PIR mode or time lapse mode.
- IR flash for color photo / video day or black and white photo / video at night. HD video (720P) with sound.
- Real temperature, time and date to be stamped in the picture, so you know when the picture or video was taken.
- 30pcs IR LEDs, super long detection range up to 20m / 66 feet. Trigger time is 1.1s, fast fire continuous shooting, never miss any important picture.
- IPX54 sealed waterproof appearance, effectively prevent rainwater dust and insects from entering.
- Support Micro SD card (up to 32GB) / USB / AV output (SD card is not included).
- Great tool for hunting, traveling, camping, tracking domestic / wild animals. Easy to use and mount.
- It can be triggered by any movement of human (or animals) in a certain region monitored by motion sensor.
- The infrared remoter is an input device of the camera and primarily used for customer settings. Its maximum remote distance is 20 meters. 
- With the fixed rope with buckle, easy to fix to tree rods and tree branches.

Power Supply:
1. 4pcs AA Alkaline Batteries  
With 4pcs AA alkaline batteries (not included), the longest standby time is up to 3 months, please note that the voltage of rechargeable AA batteries (1.2V) is insufficient to power this device.  
2. Solar Panel 
Original 6V lithium battery solar panels for optional.
3. Power Adapter 
This camera can also be powered by an external 6V DC adapter.  

Parameters:
Waterproof: IP54
Selectable image resolution: 8MP / 5MP / 3MP
Multiple photo on one detection: 1 / 3 / 6 / 9
Delay: 1 / 5 / 10 / 30 seconds / minutes
ISO: auto / 100 / 200 / 400
Resolution: 720P / WVGA / VGA
Video length: 10 / 30 / 60 / 90S
Memory: TF card up to 32GB
LED: black invisible 940nm
Motion detection: high / normal / low
Number of IR LED: 30pcs LEDs
Trigger induction time: 1.1s
HD video: 720P
Detection angle: 60 degree
PIR sensor sight angle: 90 degree
Max night vision lighting distance: 20m
Operation temperature: -16 - 60 Deg.C
File format: JPEG / AVI
Date time imprint: yes
Password security: 4 digital PIN code
Standby current: 0.2mA
Standby time: 3 months
Security authentication: FCC, CE, RoHS, Reach, RTTE

Note:
- Please insert the TF card when the camera is power off.
- Please do not insert or take out the TF card when the camera is power on.
- Recommended formatting the TF card by the camera when used at the first time. 
- The camera will be in USB mode when connected to a USB port of a computer. In this case, the TF card function as a removable disk. 
- Please ensure sufficient power when having firmware upgrade, otherwise the upgrade process could be interrupted incorrectly. If any fault occurs after improper upgrading process, the camera may stop function properly.
Optical Zoom Supported:
 Yes
Package weight:
 0.402 kg 
Package Size(L x W x H):
 16.00 x 11.50 x 8.50 cm / 6.3 x 4.53 x 3.35 inches
Package Contents:
 1 x Digital Camera, 1 x Remote Controller, 1 x USB Cable, 1 x Bandage, 1 x CD Disk