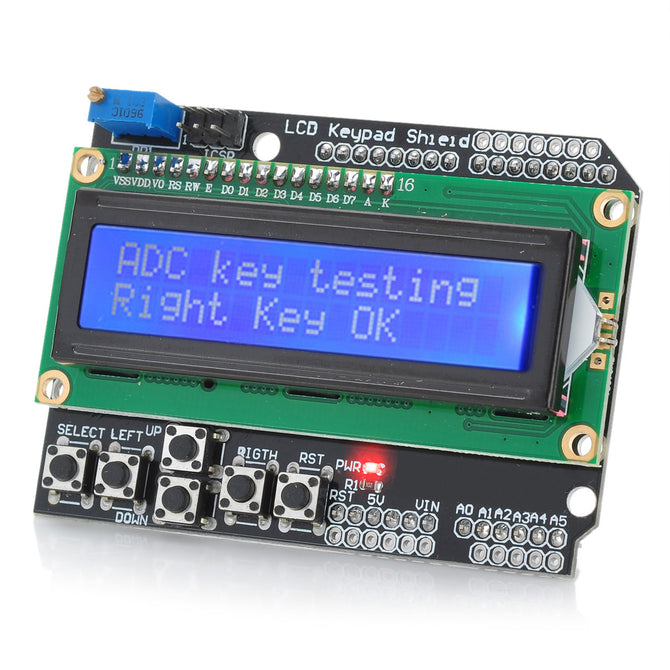 NITEO LCD 1602 Keypad Shield Extension Panel for Arduino Due UNO R3 Mega2560 R3 Duemilanove
This product is compatible with raspberry faction B + B motherboard and raspberry send motherboard. B + and B shall be inserted insertion method method compatible, B +\'s GPIO 1 foot, the corresponding paragraph B GPIO1 pin on!
Features:
The product integrates LCD1602 LCD monitors, RGB LED, and five key buttons (Up / Down / Left / Right / OK to select). Due to limited resources PI IO on the inside of the product also incorporates a grain of IIC interface expansion chips, and PI links only use IIC signal, python more simple, direct calls to library functions (see tutorial below). LCD1602 provides screen output: You can display two lines of 16 letters, suitable for displaying some simple text message. (For example: The following senior project displays the IP address of the foreign players, English menus and other information).Five key button with LCD1602, provides input interface, which can reach the selected menu function.RGB LED with different input level, you can display seven kinds of colors!This product can be inserted directly on the PI GPIO interface, users do not need the late welding, plug and play. ​This is a 16x2 LCD Keypad module for Arduino Diecimila Duemilanove, UNO, MEGA1280, MEGA2560 board. 
This shield for Arduino includes a 16x2 HD44780 White on Blue LCD module and a 5 push button keypad for menu selection and user interface programming.
1602 LCD module read and write operations, screen and cursor operations are programmed to achieve through the instructions.
Note: 1- High level, 0 -Low level)
Instruction1: clear display, instruction 01H, cursor reset to address 00H position.
Instruction 2: The cursor is reset and the cursor returns to address 00H.
Instruction 3: Cursor and display mode setting I / D: cursor movement direction, high level shift right, low left shift S: whether all the text on the screen left or right. High level is valid, low level is invalid.
Instruction 4: Display switch control. D: control the overall display of the open and close, high level that open display, low level that off display C: control the cursor on and off, high level that has a cursor, low level that no cursor B: control whether the cursor Flashing, high level flashing, low level does not blink.
Instruction 5: Cursor or display shift S / C: Move the displayed text at high level, move the cursor at low level.
Instruction 6: Function setting command DL: 4-bit bus at high level, 8-bit bus at low level N: Single-line display at low level, double-line display at high level F: 5x7 dot matrix character when low level is displayed, High-level display of 5x10 dot matrix characters.
Instruction 7: Character generator RAM address setting.
Instruction 8: DDRAM address setting.
Instruction 9: read busy signal and cursor address BF: busy flag, high level that busy, then the module can not connect Receive the command or data, if the low level that is not busy.
Instruction 10: Write data.
Instruction 11: Read data.
General
Brand
NITEO
Model
N/A
Quantity
1 set
Material
PCB + Components
Specification
Screen Type
LCD
Resolution
Others
Working Voltage
5V
Working Current
2.0mA
Download Link
https://pan.baidu.com/s/1kUNhgs3
Packing List
1 x 1502 LCD Module
Packaging Details
Unit Type:

set

Package Weight:

0.05kg (0.110lb)

Package Size:

9cm x 7cm x 2cm (3.54in x 2.76in x 0.79in)